---
You find them in hotels all over the world and they are prized possessions of millions of people in their home. The terry cloth bathrobe has become a staple of living for many decades thanks to its unique combination of comfort, warmth, and fashionable style for a robe.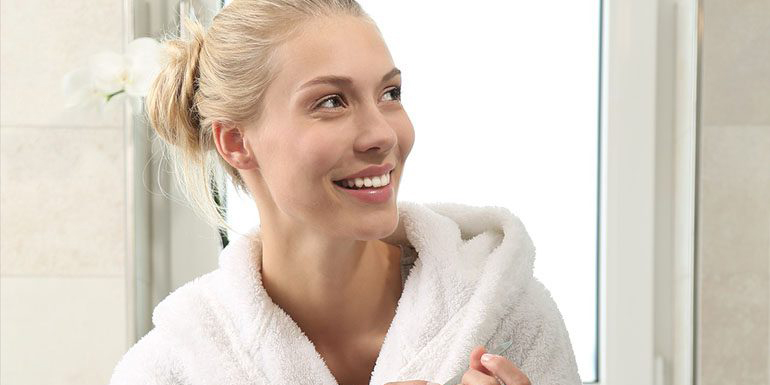 What is a Terry Cloth Bathrobe?
The terry cloth used is thick enough to keep you warm, pull the moisture from your skin, and thanks to the color and size choices it will fit your style as well. You can see the quality of the terry robe thanks to the multiple layers of cotton that work together in creating a bathrobe that is timeless in style, yet practical for your lifestyle.
The Benefits of the Cotton Terry Robe
<Quality>
The first advantage that our terry cloth bathrobes offer is the high quality material that it features. Our soft, cotton terry cloth robe is made to last thanks to its tight stitching and attention to detail. This means that under normal use conditions, your terry cloth robe will last for many years to come.
<Absorbent>
The terry cloth will pull the moisture from your skin and dry out quickly when not in use. Our terry robes are easy to clean and keep you warm and comfortable inside your home. The multiple layers work to pull the moisture from the skin to the outside of the robe where it will naturally dry.
Terry cloth makes for beautiful hotel bathrobes, spa bathrobes, and personal robes made from beautiful, plush terry cloth that feels warm and soft against your skin. You can find terry cloth robes for women and men in many different colors and styles to suit your lifestyle.
<Appropriate to Embroidery>
You can have terry cloth robe for your embroidery or personalization purposes. Embellish terry robe with a monogram or customize it with the words your customers want to use. In this manner, they can easily separate their robes from their spouses or give a loved one unforgettable gift.
<Easy Maintenance>
Our terry robes are easy to keep clean so they maintain their appearance. It is this practical aspect in simple maintenance combined with the style, color, and comfort that you want when wearing one of our fine bathrobes made from soft, plush terry cloth.
Ubest Inc offers the best quality wholesale robes, 100% high-quality natural cotton and terry material. Based in Baoding China. You'll love the cloud-like high quality of natural cotton and softness of these wholesale bathrobes. We are gives a wide cluster of discount shower robes for men, ladies and in addition kids and that as well, made of 100% cotton. These discount shower robes arrived in various assortments, for example, Jacquard bathrobes, Kimono, Terry shower robes, Waffle shower robes, and hooded bathrobes.