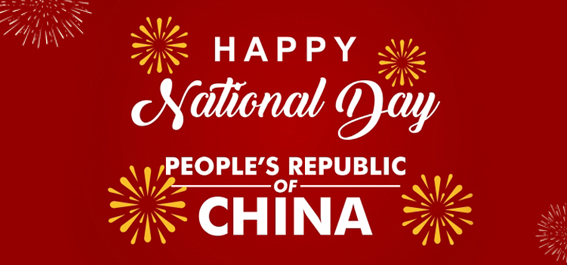 Happy National Day to the people of all countries! Happy Mid-Autumn Festival!
National Day (English name: National Day) is a statutory holiday established by a country and used to commemorate the country itself. They are usually the independence of the country, the signing of the constitution, the birth of the head of state, or other significant anniversary. The Chinese date is October 1st of the Gregorian calendar each year.
On National Day, all countries must hold different forms of celebration activities to strengthen the patriotism of their people and enhance the cohesion of the country. Countries must also congratulate each other.
National Day of the World
Cuba、Sudan: January 1
Myanmar: January 4
Australia、India: January 26
Sri Lanka: February 4
New Zealand: February 6
Grenada: February 7
Iran: February 11
Serbia: February 15
Lithuania: February 16
Brunei、Guyana: February 23
Estonia: February 24
Kuwait: February 25
Bulgaria: March 3
Ghana: March 6
Mauritius: March 12
Ireland: March 17
Tunisia: March 20
Namibia: March 21
Arab League: March 22
Pakistan: March 23
Greece: March 25
Bangladesh: March 26
Senegal: April 4
Syria: April 17
Zimbabwe: April 18
Tanzania: April 26
Netherlands、Sierra Leone、South Africa、Togo: April 27
Poland: May 3
European Union: May 9
Israel: May 12
Norway: May 17
Cameroon: May 20
Montenegro: May 21
Yemen: May 22
Eritrea: May 24
Argentina、Jordan: May 25
Georgia、Guyana: May 26
Azerbaijan、Ethiopia、Nepal: May 28
Samoa: June 1
Italy: June 2
Denmark: June 5
Sweden: June 6
Portugal: June 10
United Kingdom: June 11
Philippines、Russia: June 12
Iceland: June 17
Luxembourg: June 23
Croatia、Mozambique、Slovenia: June 25
Madagascar: June 26
Djibouti: June 27
Seychelles: June 29
Democratic Republic of Congo: June 30
Burundi、Canada、Rwanda、Somalia: July 1
Belarus: July 3
United States: July 4
Cape Verde、Venezuela: July 5
Comoros、Malawi: July 6
South Sudan: July 9
Bahamas:July 10
Mongolia: July 11
Montenegro: July 13
France: July 14
Colombia: July 20
Belgium: July 21
Egypt: July 23
Liberia、Maldives: July 26
Peru: July 28
Morocco、Vanuatu: July 30
Benin、Switzerland: August 1
Bolivia、Jamaica: August 6
Côte d'Ivoire: August 7
Singapore: August 9
Ecuador: August 10
Congo: August 15
Gabon、Indonesia: August 17
Afghanistan: August 19
Hungary: August 20
Ukraine: August 24
Uruguay: August 25
Moldova: August 27
Kyrgyzstan、Malaysia、Trinidad and Tobago: August 31
Slovakia、Uzbekistan: September 1
Vietnam: September 2
San Marino: September 3
Brazil: September 7
Macedonia: September 8
North Korea、Tajikistan: September 9
Costa Rica: September 15
Mexico、Papua New Guinea: September 16
Chile: September 18
Armenia、Malta: September 21
Mali: September 22
Saudi Arabia: September 23
Guinea-Bissau: September 24
Botswana: September 30
Cyprus、Nigeria、China: October 1
Guinea: October 2
Germany、South Korea: October 3
Lesotho: October 4
Uganda: October 9
Fiji: October 10
Equatorial Guinea、Spain: October 12
United Nations、Zambia: October 24
Austria: October 26
Turkmenistan: October 27
Czech Republic: October 28
Turkey: October 29
Algeria、Antigua and Barbuda: November 1
Dominica、Micronesia: November 3
Tonga: November 4
Cambodia: November 9
Angola: November 11
Belgium、Palestine: November 15
Latvia、Oman: November 18
Lebanon: November 22
Suriname: November 25
Albania、Mauritania、East Timor: November 28
Barbados: November 30
Central Africa、Romania: December 1
Laos、United Arab Emirates: December 2
Thailand: December 5
Finland: December 6
Kenya: December 12
Bahrain、Kazakhstan: December 16
Niger: December 18
Qatar: December 18
Japan: December 23
Libya: December 24